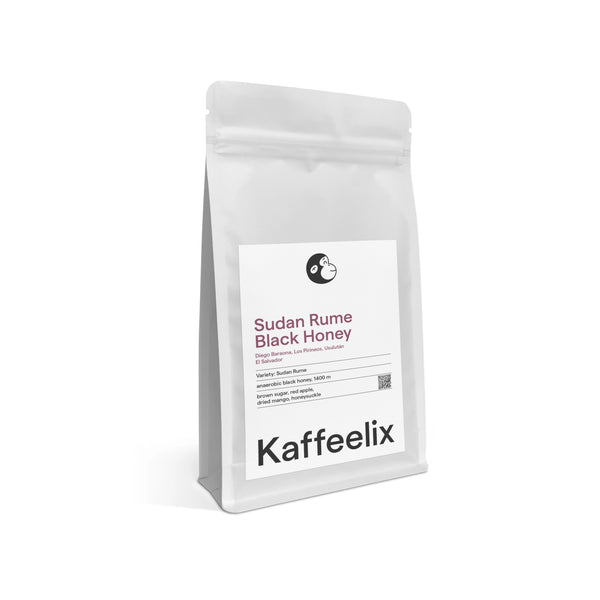 El Salvador Los Pirineos Sudan Rume - black honey
Diego Baraona, Los Pirineos, Usulután
Variety: Sudan Rume
Black honey, 1400m
Cup Score: 85,5
Cup Profile: brown sugar, red apple, dried mango, honeysuckle
Found in the Usulután department of El Salvador, Los Pirineos farm is operated by fifth-generation coffee producer Diego Baraona. Diego took the helm at the farm in 2020 following his father's passing and now works to carry on the tradition and legacy of not only his father Gilberto, but the more than 130 years of experience, history, and knowledge that his family has in coffee cultivation.
The farm sits 1400 meters above sea level on the slopes of a stand-alone volcano. This unique positioning provides a microclimate unlike any other with sun-filled days and cool breezes, creating an environment ideal for coffee production, processing, and drying.

This lot of Sudan Rume coffee underwent Anaerobic Black Honey
processing. Freshly harvested coffee cherries were first fermented whole
for 48 hours in aluminum barrels. The cherries were then pulped with
water before being placed back into the barrels and sealed for 72 hours
of anaerobic fermentation. The fermented coffee was then taken to shaded drying beds where it was dried for 45–50 days.